UNLOCK ART™. HOTEL MEETS ART IN VIENNA

HOTEL. TRAVEL. EXPERIENCE. CITY. ART. CULTURE.
Open eyes + curiosity = art experience at Le Méridien. So that your wonder doesn't cease: UnlockArt™. Your key card is also your admission ticket to Vienna's most exciting installation of art of the 20th and 21st centuries. The UnlockArt™ pass in the Discovery Envelope in your room opens the door to the 21er Haus and the Kunsthalle Wien - for free.
The Viennese Actionism movement that was so significant in the city's cultural development is documented here. Temporary exhibitions break with the predictable.
UnlockArt™ is the partnership of Le Méridien Group and a select circle of art collections all over the globe – some 16 are located in Europe. They are off-the-beaten track institutions where you can discover the art of the here and now.
But before you are off to see the 21er Haus and the Kunsthalle Wien take a look around your hotel in Vienna. Throughout the years we have and are hosting exhibitions by Viennese artists.
21er Haus - art in the park Schweizer Garten
Ai Weiwei, Gerwald Rockenschaub, Lili Reynod-Dewar, Peter Weibel, Gelatin, Fritz Wotruba, Ursula Mayer, Amor Munoz: artists who exhibit here are the vanguard of contemporary art. Your benefit as Le Méridien Vienna's guest: free admission to their works.
The 21erhaus, successor to the famed Museum of the Twentieth Century on the grounds of Vienna's Arsenal, is a stage for installations, and retrospectives; this is where the scene rocks, dances, does movies, parties, and where a salon was opened for the art book. Opulence in a structure of spare, straight lines; the 2011 extension was designed by Adolf Krischanitz. The Viennese watched open-mouthed when in 1962 an entire building that had represented Austria at the Brussels world's fair of 1958 was transplanted here. The museum was then the haunt of what was looked upon as a rather suspect crowd, young and wild.
The 21erhaus remains wild today—wild and free. And it is also one of Europe's most versatile exhibition spaces.
Address:
21er HAUS Schweizergarten
Arsenalstraße 1
1030 Vienna
Opening Hours:
Wednesday: 10:00 - 21:00
Thursday - Sunday: 10:00 - 18:00
Phone:
+43 1 795 57 700
Arrival:
Tramway D to Quartier Belvedere
or
Subway U1 to Südtirolerplatz
Kunsthalle Wien – Experience Contemporary Art
Kunsthalle Wien is the leading exhibition hall for contemporary art in Vienna. At its two locations in the heart of the Museumsquartier and at Karlsplatz, themed group exhibitions, and exciting solo presentations provide insight into the current national and international art scene.
unsthalle Wien is also an exceptional architectural highlight: the baroque Winterreithalle (winter riding arena), originally designed by Johann Fischer von Erlach, was expanded by a modern annex, which ingeniously combines the historic building with contemporary architecture. Kunsthalle Wien Karlsplatz is a modern, permeable pavilion with large glass surfaces which place the works on view in the context of the exterior urban environment.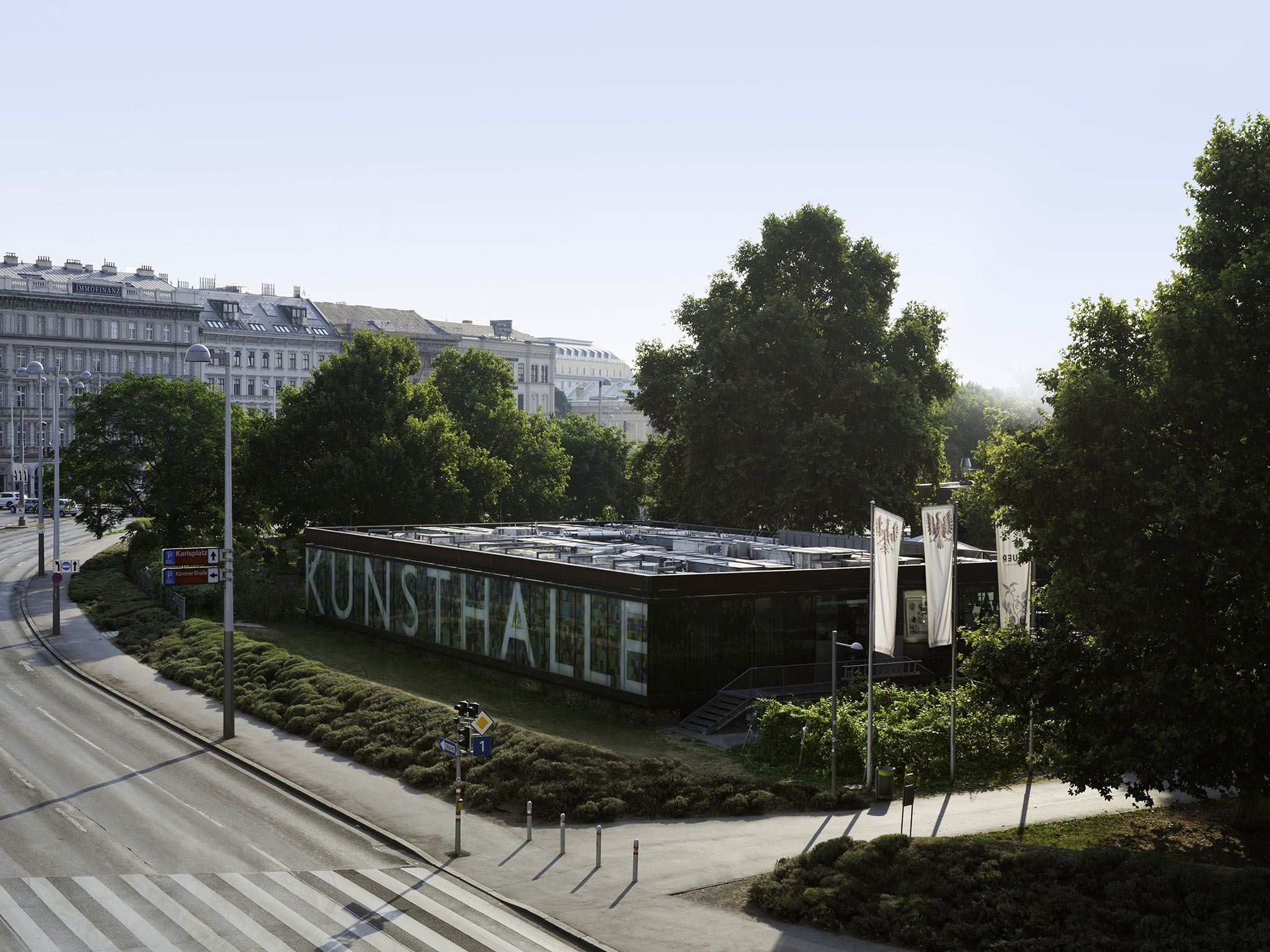 Address:
Kunsthalle Wien Museumsquartier
Museumsplatz 1, 1070 Vienna
Kunsthalle Wien Karlsplatz
Treitlstraße 2, 1040 Vienna
Opening Hours:
daily from 11:00 – 19:00
Thursdays 11:00 – 21:00
Phone:
+43 1 52189 0
Arrival:
Kunsthalle Wien Museumsquartier
U2 / U3 station "Volkstheater"
U2 tube station "Museumsquartier"
Kunsthalle Wien Karlsplatz
U1 / U2 / U4 tube station "Karlsplatz"